Some of my art from DontMindWrongPerson
The Rift
"Don't harm her body, we need her alive for the ritual to work" he sneered at one of the Anur Ruk, who had almost hit her with his scythe a moment ago. "Let the gems do their work, she will fall eventually. "Get back foul demons!" She screamed, shooting another bolt of purple energy from her staff. Each time she felt it drain her strength. But it was working, the bodies were piling up, one bolt took out one or two in a single blast. "Good thing I had this baby enchanted with some extra firepower" she thought. She couldn't remember how she got separated from the others. The ambush had been sudden and overwhelming, but the horde was thinning now. Her arms were feeling like lead, each blast draining more and more of her energy. "Only three more left" she whispered, almost out of breath. She summoned the last bit of her strength and fired a crackling bolt at the last remaining Margonites. But the bolt went straight through them as if they weren't even there. "I don't understand..." she muttered as she lost consciousness. "She is strong this one, maybe strong enough to survive the ritual" he said, kicking her staff to the side. The mound of bodies dissolved into pink sparks and the illusion gems that had been floating around at the edge of her vision stopped humming hypnotically and fell to the ground. The Anur Kaya came closer and placed a strong hex on her to keep her incapacitated. Soon her mind and body would be theirs. "She will make a fine Queen if she survives", he thought. "We doomed ourselves when we accepted Abbadons gift. Powerful as we may be, without the ability to reproduce our numbers have been in decline for millennia. Maybe through her we shall once again multiply. This world has not seen the last of the Margonites!".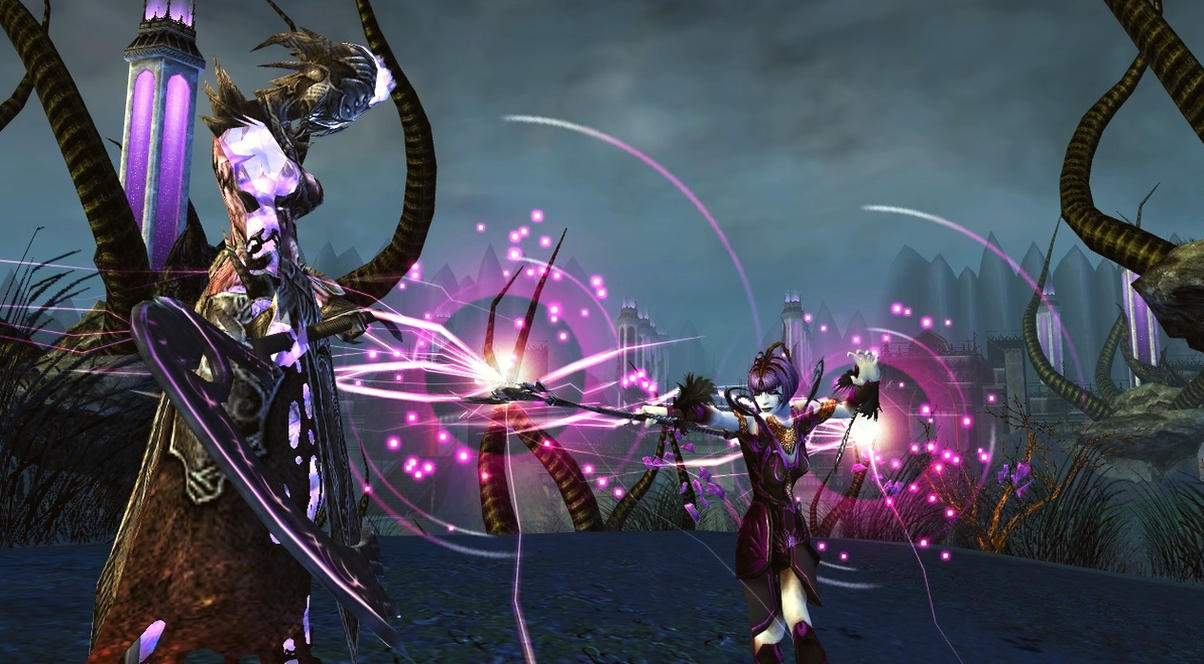 "Amerith no! She's still in there somewhere, don't kill her!" she yelled. She knew that move, it was one of Ameriths finishing moves. "We tried everything Sabriel! Whatever she is now, Rael is dead, they killed her, I'm just finishing the job!". Her left dagger cut through the chitin covering her arms, the right one almost severed one of the spiny tentacles protruding from her lower back. She screeched, no sign of her human voice was left. Amerith dodged the other tentacle, barely escaping it's piercing venomous tip. Sabriel had stopped convulsing but the venom was working fast. If only she hadn't been so naive. "Amerith! Where are you! I can't see!". Amerith jumped back, she saw Sabriels purple veins spreading up her arm like cobwebs. "Don't worry, we'll make it, Eleas plan will work, just hang in there". "It's now or never..." she though. She prepared her shadow step, she just had to get behind her, where the tentacles could not reach. "I'm sorry Rael, I'll see you in the mists" she whispered. She appeared behind her, drove her left dagger deep into her spine between the chitinous plates covering her shoulders, and in one swift movement drove her right dagger into the back of her neck. She felt the snap of the spine in both places as she twisted the daggers and the screeching stopped. The creature dropped dead, whatever they had done to her, her current form still relied on a working spine. Her plated tail twitched for a moment. "Come on Sabriel, we have to get you to a healer!". She grabbed hold of her and focussed her remaining energy. Shadow stepping two people was immensely draining, she just hoped she could get them both back in time. "Is that you Sabriel? I can't see, I can't feel my hands..." she whimpered.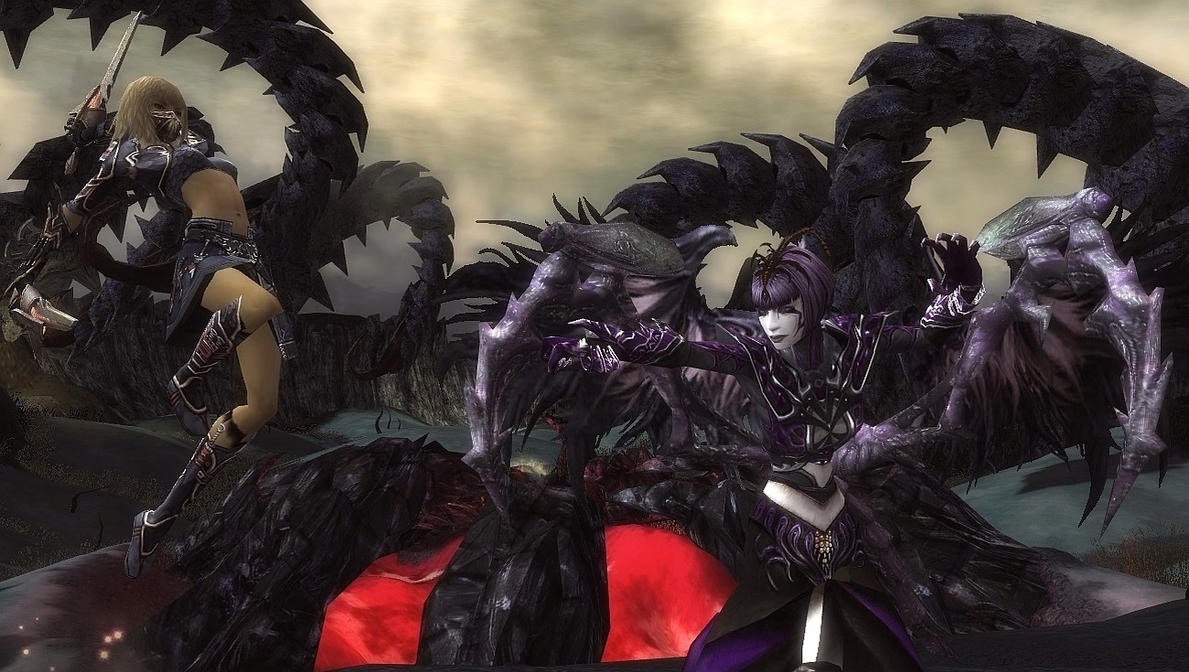 She had never felt anything like it before. The spell was tearing at every fibre of her being. The energy flowing through her veins crackled on her skin as she lost sensation in her arms and legs. She could feel it inside her now, the dimensional energy was trying to split her in two, but she was not giving in. The Margonites were getting closer again, trying to avoid the energy bursts frequently discharging from her limbs as she struggled to pull the two dimensions apart. With a shriek that seemed to come from too far away she pulled, with all that she had. The rift gave in with a thundering crack and the shock-wave knocked the Margonites back. "With this, it will be over" she thought, as she faded into the void between the worlds.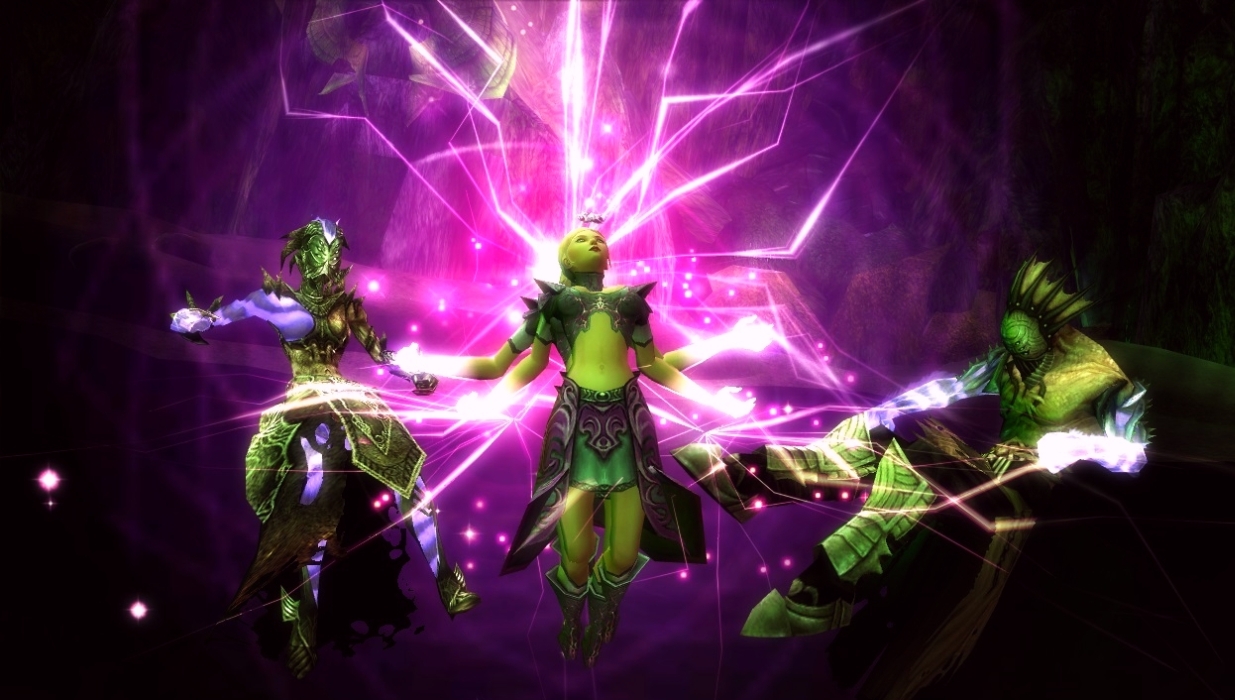 She heard the scream coming from the other side of the rift. At first she thought that they had failed, that the Margonites had won the other side. But then she felt it. The wave made her dizzy, and she struggled to retain her balance. After loosing her eyesight she had developed a unique sense of balance but this was different. Gravity started to shift. Amerith, who was mid-jump, crashed into the Margonite Anur Ki head first instead of stabbing him. "She did it!" she yelled. She swung her staff in a wide curve, hoping to hit any approaching Margonites. "We have to go now or we won't be able to get to the other side!", "OK where are my daggers?", "Forget about the damn daggers! There's no time!". The second pulse hit them and gravity disappeared in an instant. The last two conscious Margonites were bobbing around like purple balloons trying to grab their weapons floating out of reach. The rift was shrinking now. Normally it would be the size of a Yak, now it was the size of a melon. She couldn't see it, but she felt it's power weakening, and fast. Amerith grabbed her hand, "Let's go!" she said and they kicked off from the ground floating towards the rift. "I don't want to be stuck on this miserable side of the galaxy with you any more than you do" she yelled but the words became warped and sounded like they came from much further away. It was like she was trying to speak under water. She felt a sharp pain as she touched what was left of the rift, it was only the size of an orange now, she felt her entire being squashed as she was sucked through, but did everything she could to hold onto Amerith's hand, then everything turned black. When she woke up she was freezing, "Amerith! Elea! Are you alive? We made it! We closed the rift!" She was still clinging to Amerith's hand, it was cold as ice. She crawled closer, wanting to warm her up, and started mumbling the words for a spell. It took her a moment before it hit her, there was no Amerith. Her arm was severed at the elbow. "We did it", she sobbed, "We saved the galaxy".