I love this idea and opportunity for collectors to have a method of showcasing their relics in a thread per collector.
For those that know me over the years, are aware that I have many types of collections, some collections have sub collections

.
Not all of my collections are for everyone, but that's the beauty of collecting, it's what the individual collector likes, not what the general community thinks about it.
With that being said, I have already posted a few of my collections in the "Your Beloved Collections" thread so I have included a couple direct links below

Sample of Pre-nerf Collection as of June 2018
434 Piece Sword Collection as of Sept 2019
To start off the compilation of "Chevy's Shiny Relics", here is one of my favorite collections of only 4 items, this is the:
"Q7 One-Off Collection"

Q7 Celestial Added 11/11/20: I have been blessed with the opportunity of purchasing this beauty to add to this collection. Thank you Oldschool Cool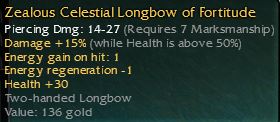 Added Nov 7th 2020:

More Collections will be added as Replies to this thread. Feel free to scroll through or you can access via the following link(s):
OS Wand/Focus 10/10 (or 10/9) Collection
More to come....
Chevy